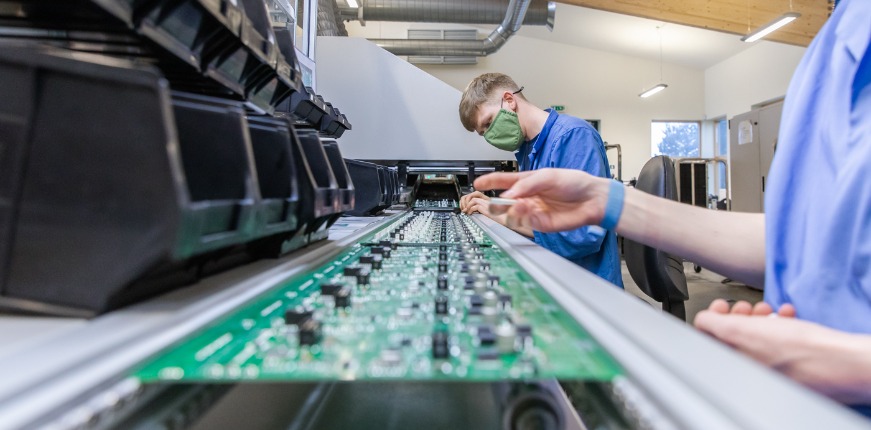 The Wave Soldering Process – 5 Key Steps
Supporting our surface mount pick & place machines, we operate in-line hand assembly conveyors ahead of the wave soldering process.
Our hand assembly team can fit all PTH (Thru Hole) components at high speed. We have an automated masking process to protect the areas which don't require solder. Any open thru-hole via's will also be spot masked before processing the populated PCB's through wave soldering.
How does this benefit our customers?
Very competitive pricing as a result of high production efficiencies
High quality and consistent solder joints
High volume production capability
Fast turnaround assembly
So, how does the wave soldering process work?
Wave soldering is an in-line process that follows surface mount, reflow and AOI.  The underside of the PCB (Printed Circuit Board) is treated with flux before being preheated and then immersed in liquid solder.
The 5 Steps of the Wave Soldering Process
Step 1 – Set Up
The wave soldering machine combines a tightly controlled flux application, pre-heating and heated solder bath process. The bath holds between 300-500kg of solder which is kept at the required level by our trained operators. Once the machine reaches the pre-set solder profile levels, then the automated process can commence.
Step 2 – Placement of the PCB
Once the machine is ready, the PCBA can be processed from the hand assembly station through the machine. There are metal clasps on the conveyor which hold the board firmly in place as it goes through the following stages.
Step 3 – Cleaning the Components (Fluxing)
During this crucial step, the machine thoroughly cleans components to remove any metal oxide layers which may have formed using the flux application process. Flux is a chemical cleaning agent and is sprayed on the PCBA before the solder is applied.
Step 4 – Application of Solder
The PCBA is passed over a bath in which a pump produces an upwelling of solder, which resembles a standing "wave". Our team pre-set the timing/speed of the conveyor, ensuring that sufficient time is allowed for the solder to settle on the joints and ensure strong joints are formed.
Step 5 – Cleaning
This is the final step in the wave soldering process. We wash and clean our circuit boards through our chemical wash plant, as well as hand cleaning with the help of deionised water and IPA. Flux residues can form on the PCB during the machine process and will be removed during this step.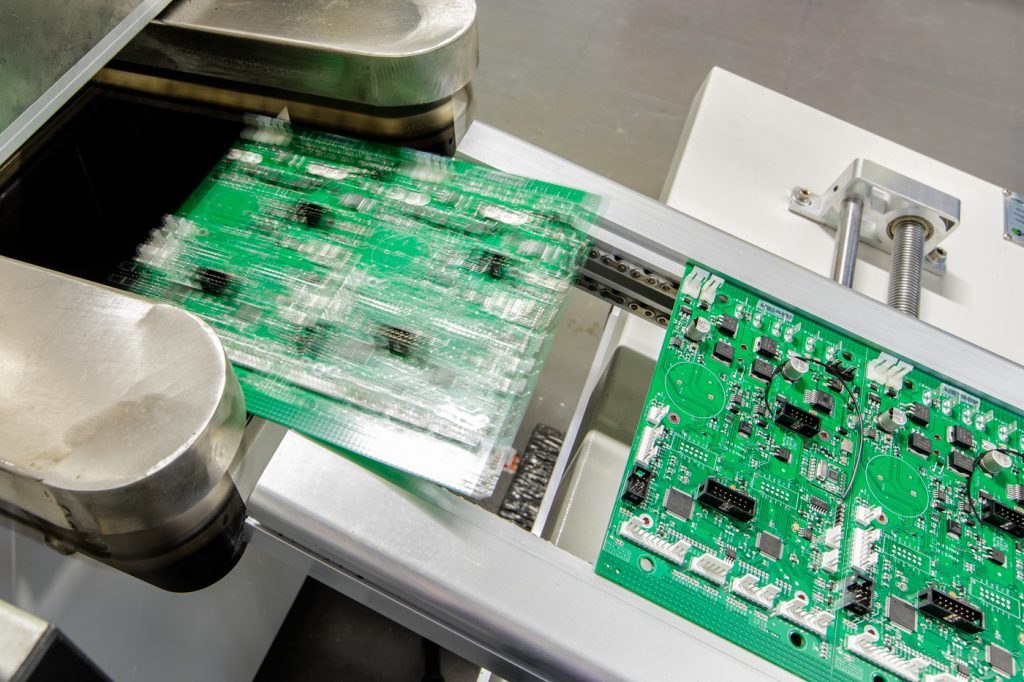 Please take a look at our PCB assembly and product assembly pages for more information on our capabilities.
Our team are always here to support any queries you may have. Please send any RFQ's or questions through to enquiries@makartechnologies.com or get in touch on our contact page.